Malwarebytes has released AdwCleaner 7.4 and with it comes a new feature that will detect and remove preinstalled software that is typically added to generate revenue for the hardware developer and thus reduce the device's cost.
When you purchase hardware, the device will often come with preinstalled software from third-parties that includes antivirus trials, backup software, DVD burning software, media players, etc. As the third-party software developers pay the manufacturer to include their software, the manufacturers can reduce the price of the hardware in order to remain competitive.
The problem is that many of these preinstalled programs, or what is commonly called bloatware, will slow down a computer, display annoying nag screens, and just act as a general nuisance.
With the release of AdwCleaner 7.4, Malwarebytes is now targeting bloatware that come with new computers and laptops.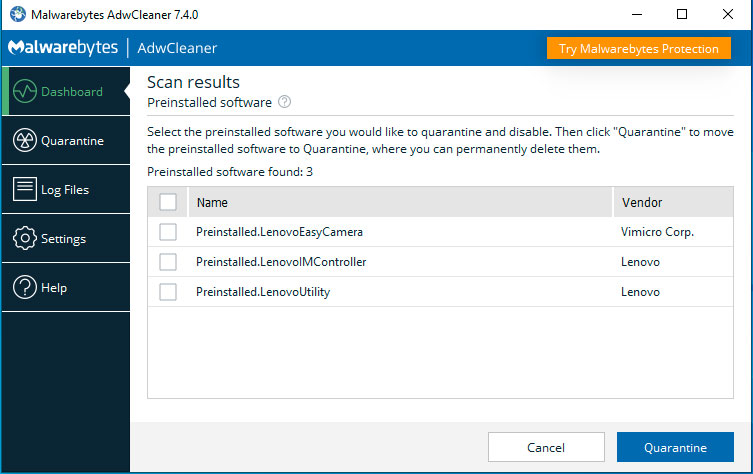 In our tests with AdwCleaner 7.4 and conversations with others, some examples of the software that AdwCleaner detects include:
Preinstalled.LenovoEasyCamera
Preinstalled.LenovoMController
Preinstalled.LenovoUtility
Preinstalled.AcerPowerManagement 
Preinstalled.AcerUpdater        
Preinstalled.PackardBellPowerManagement
As some preinstalled software can be tightly integrated into the hardware, Malwarebytes will attempt to create a system restore point every time it removes one. In BleepingComputer's tests, system restore points were not created when we tested the removal feature.
After removing a program, you can always restore it from the "Preinstalled software" tab in the Quarantine.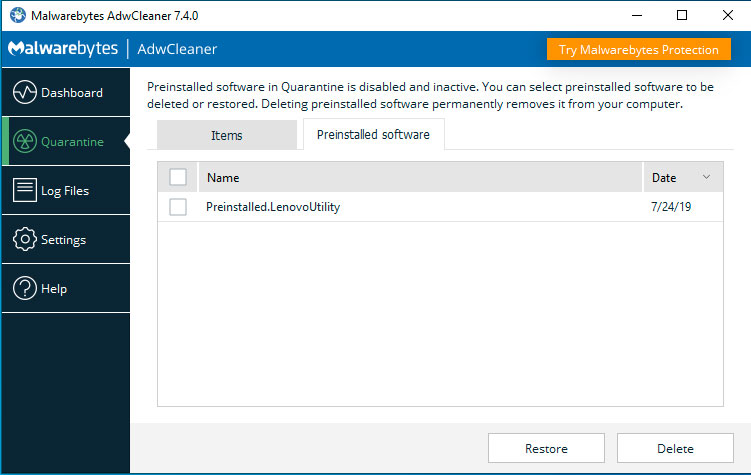 This is going to be a welcome feature for users who hate bloatware and just want the tightest performance that they squeeze out of a new PC without performing a clean install.
If you use AdwCleaner and it detects any preinstalled software, let us know the detection names so we can add them to the article.
The full change log for AdwCleaner 7.4 can be found below:
New Features:
Changes:
Use Windows 10 styled titlebar.
Increase the UI dimensions.
Update translations.
Update telemetry endpoint.
Update to Qt 5.9.8.
Update to libsodium 1.0.18
Definitions 2019.07.22.1
Bugfixes:
Fix survey not closing from the X button .
Various UI optimizations